In 2020, COVID-19-related disruptions led to 23 million children missing out on essential vaccines, an increase of nearly 4 million from 2019. Since then, some childhood immunization systems have gradually regained ground, but in many countries, services have not yet returned to pre-pandemic levels, and disruptions intensify when new pandemic waves take hold.
As immunity gaps persist, and in some cases widen, the risk of outbreaks of other deadly vaccine-preventable diseases looms, as we've seen with the reemergence of polio in Malawi.
Countries have been forced to make difficult choices as they balance COVID-19 vaccine rollout and cornerstone immunization services, though many have found creative solutions along the way. We collected some examples of the techniques and tools used in the acute phase of the pandemic to strengthen routine immunization in the near and long terms.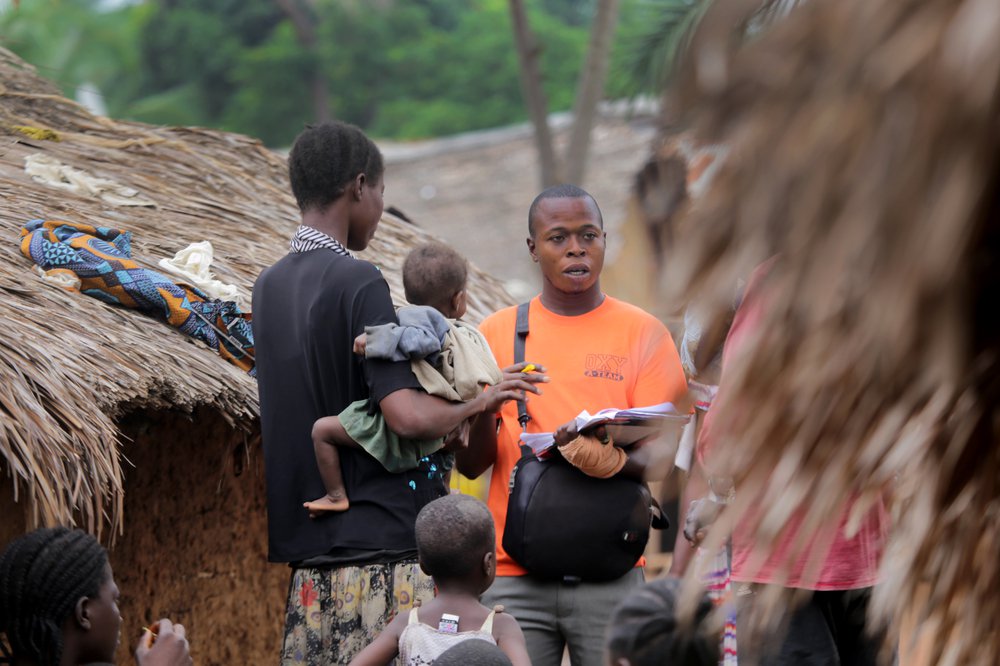 Build on successful community-led initiatives
During the pandemic, misinformation about the COVID-19 vaccines and mistrust of government have been barriers to vaccinating populations against the virus. To design services to address challenges in reaching the "last mile" populations, many countries developed creative and innovative responses to reach specific groups, raise awareness on the risks of COVID-19, and communicate the benefits of vaccines.
Dedicating funding for community outreach: In Kenya, the national government put aside dedicated funds for community engagement strategies to enhance knowledge and understanding of COVID-19 and increase immunization rates. Key approaches include the deployment of volunteers to circulate credible information about COVID-19 and help enable community members to receive vaccines.

Tapping into health worker insights: Frontline immunization workers play an integral role in getting shots in arms. As such, listening to their feedback is key for the design of effective vaccine preparedness and distribution plans. In Kenya and Zambia, health workers' insights have supported the ministries of health as they develop roadmaps for vaccine distribution. In Kenya, all counties conduct regular COVID-19 review meetings where health care workers and management teams review COVID-19 vaccination strategies, approaches, and data and then make decisions informed by data and experience.

Elevating the voices of champions: In Uganda, the Ministry of Health has successfully involved community leaders—heads of cultural institutions, religious leaders, and elected and appointed leaders at the community level—at the center of vaccination mobilization efforts. The voices of these champions are amplified in local languages over traditional and social media platforms and through public address systems to share prevention and vaccination messages.

"To strengthen routine immunization systems for the future, we need to continue to work in partnership with communities to understand their sources of information, identify persistent rumors or areas of distrust, and then adapt immunization programs to address their specific needs, culture, context, and resources," explains Johnpaul Omollo, Senior Policy and Advocacy Officer, PATH Kenya.
Johnpaul, who works on the USAID-funded MOMENTUM Routine Immunization Transformation and Equity project, also stresses the need to engage with community and political leaders who may be less enthusiastic or supportive to ensure that oppositional views do not undermine community outreach programs.
Partnering with communities and local leaders in decision-making around vaccination and other health services ensures communities lead and dictate their own health programs. Programs rooted in a people-centered approach will drive greater awareness and acceptance of COVID-19 vaccination.
Adapt and scale technology already in use
The onset of the pandemic saw a much-needed influx of funding for Africa's technology industry. Many countries have used this funding to creatively adapt and scale up existing digital health tools to meet their urgent need to fight COVID-19.
"PATH is working with local Africa-based tech firms and vendors to adapt technologies that are fit-for-context," says Heidi Good, Deputy Director, Social Innovation and Impact, for Digital Square, part of PATH's Center of Digital and Data Excellence.
When time is of the essence, refining preexisting health tools is crucial for maximizing impact.
Accelerating COVID-19 response and vaccine rollout: As countries are operationalizing their COVID-19 pandemic response plans, there is an opportunity to identify areas where digital health interventions can accelerate these efforts, while improving service delivery, producing actionable data, and strengthening health systems more broadly. The United Nations Children's Fund and the World Health Organization formed the Digital Health Centre of Excellence (DICE)—of which Digital Square is a technical partner—to provide coordinated technical assistance to support sustainable and scalable deployment of carefully chosen digital health solutions that support COVID-19 pandemic response. DICE's approach is responsive to government needs and focuses on adapting preexisting digital health tools.
Deploying digital surveillance and response: In Mali, the onset of COVID-19 led the country to adopt a digital tracking tool based on its existing reporting system, Digital Health Information Software 2 (DHIS2), to track COVID-19 vaccination data—patients' personal information, the date and type of vaccine administered, and the date of the second appointment. The US Agency for International Development–funded DHIS2 is also used to track new infections, trace contacts, and monitor patients' COVID-19 treatment. While Mali was one of the first countries in the Sahel region of Africa to employ DHIS2 for COVID-19 surveillance and response, many countries have since taken up the software to aid in pandemic response efforts.

Tracking health products: In Cameroon, the Open Logistics Management Information System (OpenLMIS) COVID-19 Edition has enabled tracking of COVID-19 products such as personal protective equipment and vaccines, including their expiration dates. The simplified OpenLMIS COVID-19 Edition has all the features and functionality of the original version (currently in health facilities in nine African countries) but is packaged into a tool that is quicker to use and designed specifically for COVID-19 response.
As a result of efficient use of these digital tools during COVID-19, health workers save time in compiling data, data efforts are fewer, and decision-makers have real-time access to data as they respond to needs and provide services. Further leveraging these systems and new ways of collecting and managing data will improve provision of essential health services—including immunization—that are accessible, affordable, and fit for local contexts.
The devastating effects of the COVID-19 pandemic have underscored the importance of fundamental health systems strengthening. Now is the right time to accelerate the development of resilient national and subnational health systems that can respond to emergencies and sustain delivery of lifesaving vaccines.