Sangamner, a subdivision of Ahmednagar district in the Indian state of Maharashtra, is home to more than 140,000 people. But it has only one laboratory for confirmatory COVID-19 testing.
Before the pandemic's second wave, more than 200 samples were collected each day on average, which was enough to overload the only reverse transcription polymerase chain reaction (RT-PCR) machine in the district. One overworked laboratory technician was responsible for everything—from collecting the samples to making the data entries in the Indian Council of Medical Research (ICMR) portal.
These issues, further amplified by surging COVID-19 cases in the recent months, delayed turnaround time by 8 to 10 days.
Sangamner's situation is but one example of the larger issue with the centralized testing approach and overburdened laboratories in India. Across cities and states, people with symptoms of COVID-19 were unable to get tested, with labs fully booked and test reports significantly delayed. In many places, the lack of a COVID-positive report meant that seriously ill patients were unable to get admitted or access oxygen cylinders.
During the testing network analysis that PATH undertook, it quickly became evident that decentralized testing would improve access and turnaround times, as well as curb the spread of the infection through early diagnosis. In addition to these benefits, decentralized testing would also empower states to adapt newer, faster, and tailored ICMR-validated technologies to reinforce testing and tracing methods by building rapidly reactive health systems.
With support from The Rockefeller Foundation, PATH is working with state governments in India to decentralize testing processes through a systems-strengthening approach. Specifically, PATH teams advocate for the adoption of newer testing technologies—which PATH will provide the technical support for—such as the automatic RNA extractor, new generation rapid antigen kits, point-of-care molecular testing, and differentiated testing algorithms. Our teams are also rethinking existing technological solutions like cloud-based laboratory information management systems and barcoding for lab automation as part of a flexible testing strategy for the present and the future.
Improved testing through product innovations
As a model, PATH decided to implement a testing mechanism in Sangamner that uses two diagnostic tools—a rapid point-of-care molecular testing technology (Abbott ID NOW), coupled with newer generation rapid antigen kits (Abbott Panbio COVID-19 Ag Rapid Test Device).
These solutions meet the two-fold objective of providing:
(1) a rapid diagnostic test (RDT) kit with better sensitivity and specificity, as well as a shorter turnaround time.
(2) a confirmatory diagnosis at the point of care.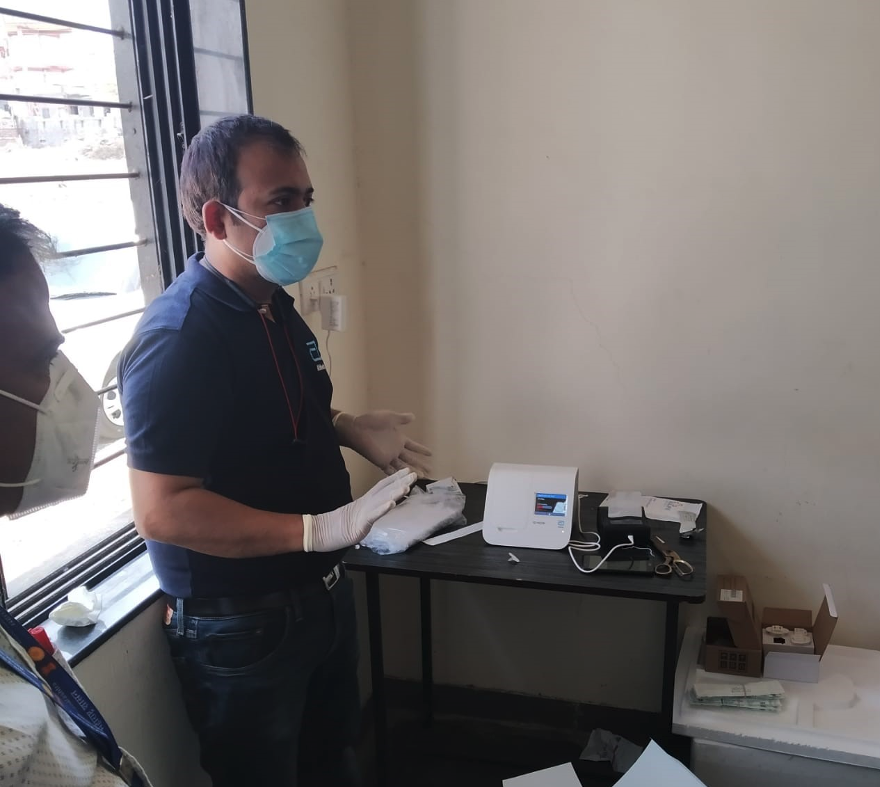 Abbott ID NOW is an intuitive molecular testing platform providing confirmatory results in just 6 to 13 minutes. Particularly useful for testing patients who need emergency care or hospitalization, ID NOW requires less training and technical support and can be kept at room temperature—thereby eliminating the need for air conditioning or even a laboratory setup. The device can be used on mobile testing platforms and to conduct outbreak investigations for COVID-19. The confirmatory results are as fast as the commonly used RT-PCR technology. The ID NOW also decreases the possibility of false negatives as it amplifies the sample up to a trillion times, increasing the likelihood of detection and simplifying lab processes. It is also more cost-effective, has biohazard risk reduction features, and does not require complex infrastructure to ensure biosafety compliance.
Abbott Panbio is a rapid antigen test kit that can provide test results in 15 to 20 minutes and has a higher sensitivity and specificity as compared with other RDTs. It has a higher accuracy due to being a newer generation RDT, which targets the nucleocapsid, as compared with the existing RDTs, which utilize the spike protein of the virus.
The impact of these product introductions has been immense. Installation of the Abbott ID NOW and Panbio has helped streamline the process of testing, significantly reduced the turnaround time, and improved the workflow. Currently, 45 percent of patients from Sangamner are tested using the Panbio antigen test and the remaining 55 percent with Abbott ID NOW, thus reducing the load on the RT-PCR facility in Ahmednagar. This has further resulted in early diagnosis, quicker admission of patients, and prompt care.
Process innovations and the bigger picture
In addition to the introduction of new technologies, PATH is providing technical support to states by training health care workers and laboratory technicians in the use of new technologies and by encouraging investment in laboratory capacities.
PATH is also working with district administrations to demonstrate process innovations like upfront dual swab collection. Collecting two swabs at once ensures symptomatic people who test negative on RDTs can also undergo an RT-PCR test without any additional effort from the patient's end.
To facilitate data collection and input, PATH has installed an innovative lab automation tool, Cloud Pathology, at select labs. This system provides end-to-end automation of testing processes beginning from the sample collection center and ending with report delivery.
Coupling decentralized testing with Cloud Pathology at the centralized laboratories further reduced turnaround times of report dissemination by ensuring real-time data upload onto the national registry as well as by sending out timely messages to the registered mobile numbers of patients informing them of the status of their samples. This process optimization has facilitated real-time data entry, substantially reducing the time required for documentation. This is further helping reduce backlog, making the whole process more cost-effective.
All these together help reduce transmission of the virus in the population by decongesting the RT-PCR laboratory to help cater to more patients and improving the turnaround times at the centralized laboratory to ensure earlier diagnosis.
The decentralized testing solutions listed above are just a few of the many solutions PATH has implemented to increase access to testing and address delayed turnaround times. These are innovations that keep patients at the center by ensuring better access and rapid results, thus avoiding unnecessary waiting time as well as artificial crowding at the collection centers for test results.
Strengthening health systems for today and tomorrow
Introducing disease-agnostic platform solutions will help the states tackle with COVID-19 today and—with sustained implementation—for other disease areas in the future.
For the way forward, PATH is looking beyond the current requirements of COVID-19 testing and striving to push for disease-agnostic testing platforms to cater to testing needs across verticals, strengthening existing systems and better disease surveillance at a genome level through Whole Genome Sequencing strategies, to prevent future outbreaks and optimize health care response.

About the author: Nimmy Dominic, MD, is a PATH technical officer supporting India's COVID-19 response efforts. For media inquiries about Nimmy's work or PATH's pandemic response, contact media@path.org.