We stand at a crossroads in global public health.
COVID-19 has cost millions of lives, intensified inequities, and pushed health systems far beyond current capacities.
The world wasn't ready for this pandemic, but we can be ready for the next.
"Our new strategy is designed to directly respond to the current crises we face as a global community, to the needs and priorities of our local partners, and to their resounding call for the continued transformation of our sector."
— Nikolaj Gilbert, President and CEO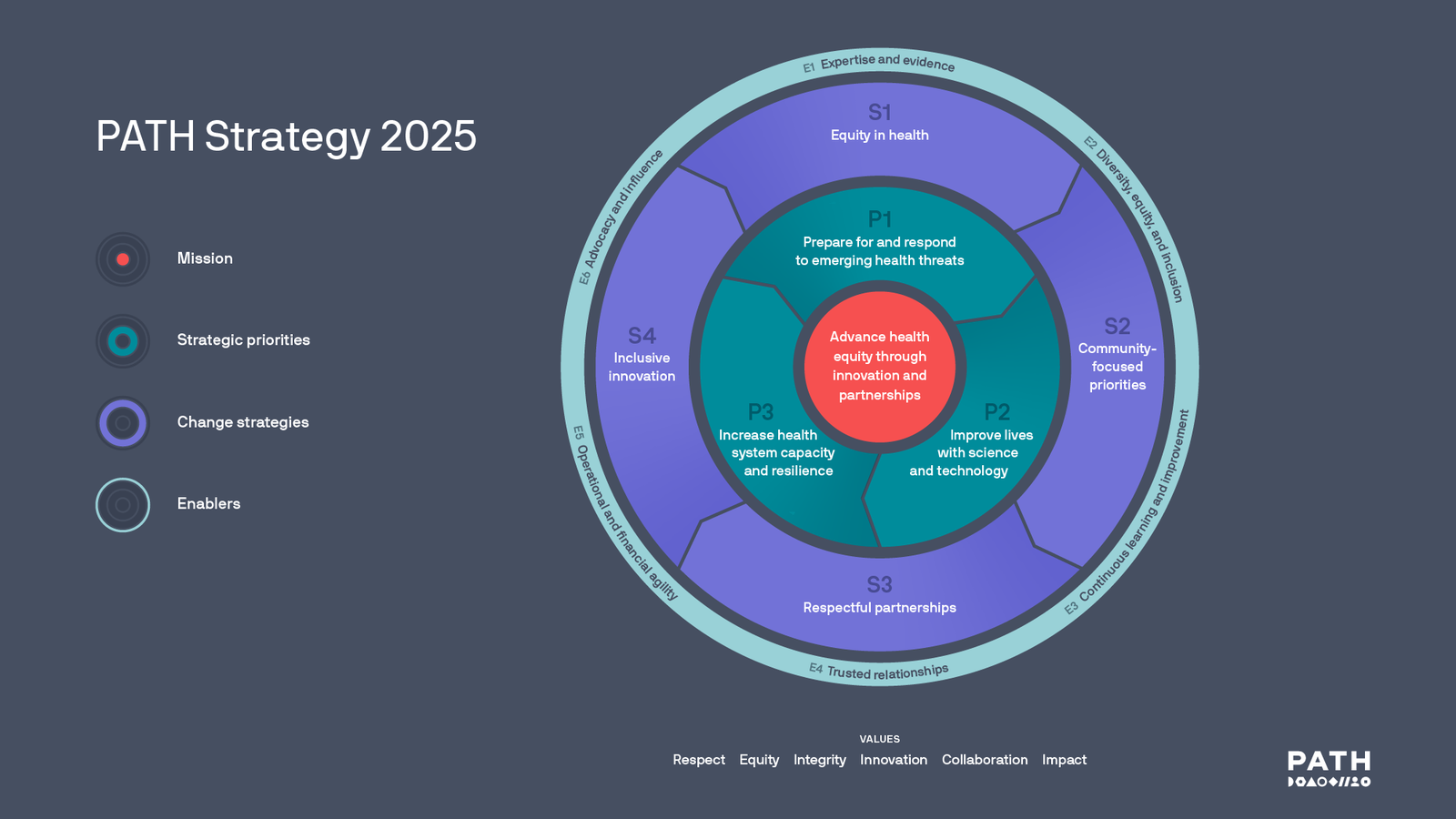 For more than 40 years, we've been evolving to address the world's most pressing health inequities. Recognizing the historic moment our sector is in, we wanted to go further than developing a five-year strategic plan—we wanted to re-vision the role and function of the international nongovernmental organization (INGO)itself, beginning with the needs and priorities of the people we serve.
So, we gathered input from 400 stakeholders across 50 countries, including local health leaders, ministries of health, public-and private-sector partners, funders of public health programs, and members of our own global team.Together, we identified the PATH capabilities most valued by our partners, and used those capabilities to frame three areas of focus for our future:
Preparing for and responding to emerging health threats
Improving lives with science and technology
Increasing health system capacity and resilience
These holistic priorities represent an intentional and responsive shift away from the siloed health areas and piecemeal approach that have limited our sector's potential and slowed the rate of progress.
"Enhancing health system resiliency begins with investing in local talent and recognizing the capacities of local partners. That's exactly what we aim to do over the next five years."
— Nanthalile Mugala, Chief of Africa Region
A clear and resounding call
As we gathered input from our partners, we also heard a clear and resounding call for INGOs like PATH to work differently and help move the sector toward a more equitable and effective model. To answer that call, our new strategy goes beyond what we will do to reimagine how we will do it.
We've identified four change strategies that will guide our efforts moving forward and help us become an even better agent of public health transformation.
Equity in health
Inclusive innovation
Community-focused priorities
Respectful partnerships
At PATH, we will still bring all the same capabilities and expertise to bear for our partners that we always have, but we will do so in an even more holistic and sustainable way—one that seeks to build and enhance local systems, to elevate local knowledge and expertise, and to safeguard everyone everywhere from the devastation of future pandemics like COVID-19.
A bridge to a better sector
Working toward equity in health must include challenging inequities in current global health programming; pursuing new approaches rooted in the determinants of health, human rights, and country and community leadership; building capacity; and recognizing the assets and strengths of all countries and regions, so that when health interventions are needed, they can be developed with local science, local technology, and local industry.
At PATH, we intend to lead by example. For 40 years, we've been a bridge between public and private, global and local. Now, we want to be a bridge to a better sector. If we can turn in this new direction—not only at PATH, but at all INGOs—then our shared future will be one in which the world's health systems have the capacity to respond to global crises and effectively meet the needs of all people. We believe that is the only future worth pursuing.