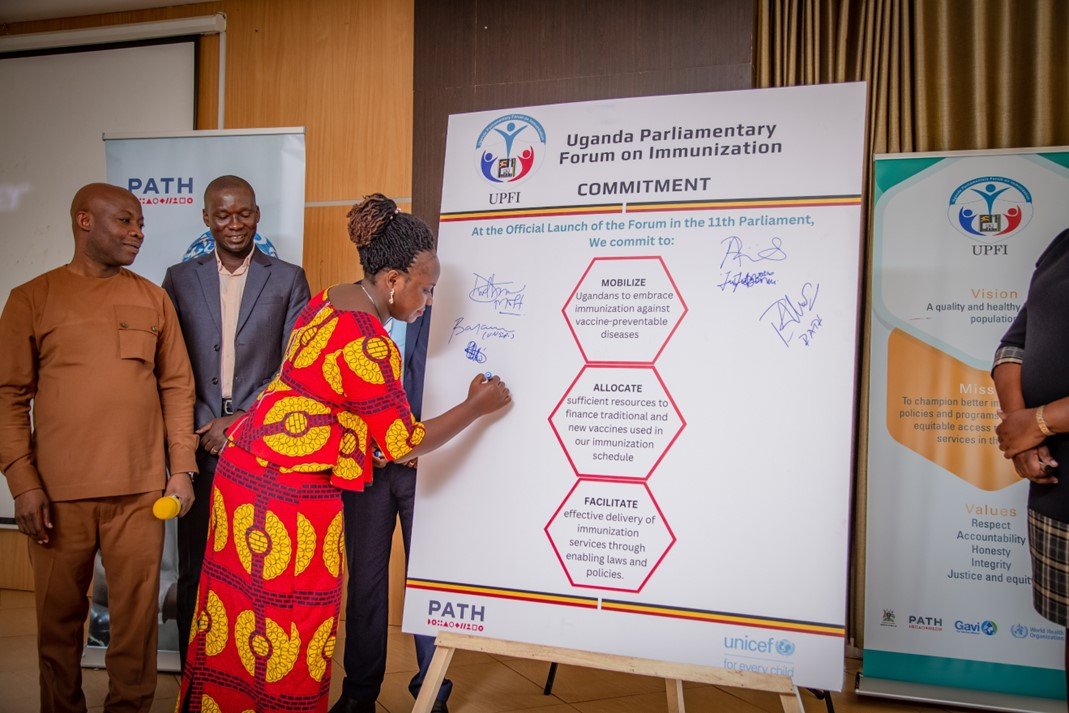 PATH Program
Advocacy & Policy
At PATH, we know it is not enough to create solutions to health problems. To achieve health equity, PATH's advocacy and policy team helps policymakers, advocates, and citizens make evidence-based policy and funding decisions that bring these solutions to scale. But we don't stop there—we also hold decision-makers accountable for their commitments.
Contact
In 2018-2021, our advocacy contributed to at least:
98
Policy implementation activities completed
What we do
PATH is an expert in driving change through policy. For four decades, we have applied our technical expertise and leveraged our influential partnerships with public and private-sector leaders to inform and advocate for action that responds to communities' health priorities.
We inform policies, mobilize resources, and advocate for actions that will lead to lasting positive change with a focus on:
Reproductive, maternal, newborn, child, and adolescent health and nutrition to help women, families and communities thrive.
Immunization that reaches every child to protect them from serious illnesses and deadly diseases.
Innovation to develop and scale new technologies, whether they are vaccines, drugs, diagnostics, or system innovations including data and digital tools.
Elimination and control of diseases including infectious and noncommunicable diseases and neglected tropical diseases.
Preparedness to fight emerging health threats and end pandemics.
Access to essential medicines and technologies for all that are affordable, appropriate, and quality-assured.
Analyze and develop policies
When it comes to improving health, smart policies and robust resources can make all the difference between a promising idea and an accessible health solution or program. Our experts analyze the policy environment to identify where new or different policies are needed to advance progress against priority health challenges. We develop policies, strategies, legislation, and guidelines to overcome these challenges.
We encourage decision-makers to craft policies, commit resources, and sponsor initiatives that improve health. It often starts with raising visibility of the issue and building political will to move forward. Then we gather and communicate evidence to ensure that policymakers understand the multiple facets of an issue. We then engage decision-makers to ensure they advance evidence-based policies. We don't stop until these policies are written and adopted, resources are mobilized, and the policies are fully implemented and monitored to ensure accountability.
Build influential champions
We build champions to ensure our issues are prioritized for action. This includes political champions but also other influential voices such as healthcare professionals, scientists, researchers, academics, business leaders, faith community leaders, and patients. We give them the information, and opportunities they need to be effective advocates for health equity.
Citizen mobilization and empowerment is critical to generating demand and ensuring accountability for quality-assured, affordable, and accessible health services. PATH creates platforms to elevate citizen voices and concerns, foster dialogue between citizens and the policymakers who serve them, and involve citizens in the planning and monitoring of health and social services. Such platforms serve to influence changes in policies, budgets, and point-of-care service delivery that make a tangible difference in the daily lives of those we aim to serve
Coalitions are an indispensable tool for advocacy in today's complex policy environment. When diverse groups unite for a common cause, their collective action can add real momentum to advocacy efforts and increase the likelihood of impact.PATH has a long history of building successful coalitions that shape policies and promote investments in high-priority health areas. We leverage both our extensive network of partnerships and our footprint in more than 70 countries to bring a mix of public-sector, private-sector, and nongovernmental stakeholders to the table.
Strengthen advocacy capacity
Local health advocates play a pivotal role in the development and implementation of policies and budgets to improve health in their countries. With a deep understanding of the issues and strong, established relationships with members of their communities and governments, they have the necessary knowledge and connections. PATH works with individual advocates, organizations, and coalitions to help ensure supportive health policies, secure adequate funding, and hold their leaders accountable to fulfill health promises. PATH supports advocates as they develop strategies and messages to influence policies and form networks that have real impact. Our support helps build the skills and knowledge base that foster the changes that advocates can replicate time and again.
For more than a decade, PATH has supported the adoption of evidence-based, adequately-resourced, and impactful policies. With locally staffed projects in more than 70 countries, and deep expertise across a range of health areas, we are a trusted partner to government decision-makers and civil society advocates. We work with national and subnational governments to advance evidence-based policymaking and to ensure civil society is engaged in these processes. For greater impact and sustainability, we partner with local civil society organizations, enabling them to lead and demand accountability from governments. Read more about our approach here.
Advocacy has been part of PATH's work since our founding more than 40 years ago. PATH has conducted advocacy globally and in more than 50 countries. Today, PATH's team of advocacy professionals around the world works at all levels with governments, civil society, the private sector, and other development partners to advance policy initiatives that result in better health outcomes for women, children, and families. Our multidisciplinary staff includes public health experts with experience in diverse cultural contexts, as well as business and policy strategists skilled in translating promising ideas into approaches that have a lasting impact on health
Meet the team
Heather Ignatius

Managing Director, External Affairs

Rosemarie Muganda-Onyando

Regional Advocacy Director, Africa

Marti Wilson

Finance and Administration Manager

Kelly Healy

Co-Lead, Advocacy Partnership

Rachel Ndirangu

Co-Lead, Advocacy Partnership

Jacqueline Achieng

Program Officer, Media and Communications

Deogratias Agaba

Senior Communications Officer

Elizabeth Bazuaye

Program Assistant- Advocacy and Public Policy

Mariana Becerra

Policy & Advocacy Officer

Jenny Blair

Manager, US & Global Policy and Advocacy

Taonga Chilalika

Advocacy and Policy Officer

Claire Felten

Senior Advocacy and Policy Associate

Pauline Irungu

Global Policy & Advocacy Advisor

Josphine Kinyanjui

Advocacy and Policy Officer

Wanjiku Manguyu

Regional Advocacy and Policy Advisor

Diketso Mphafudi

Program Associate

Rebecca Mwima

Program Assistant- Advocacy and Public Policy

Esther Nasikye

Advocacy and Policy Lead, Uganda

Jamie Nishi

Executive Director, Global Health Technologies Coalition

Frederick Okwi

Program Officer

Johnpaul Omollo

Senior Policy Officer, R&D

Clayton Opiyo

Advocacy and Policy Officer

Hannah Sachs-Wetstone

Program Assistant, GHTC

Martha Songa

Regional Advocacy and Policy Officer

Melissa Wanda

Policy & Advocacy Officer, Kenya
Our Resources
Browse resources and publications from our program in the PATH resource database.
Explore