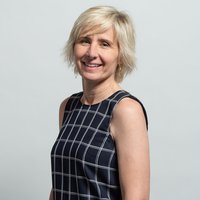 Deborah Atherly
Global Head of Policy, Access, and Introduction, PATH Center for Vaccine Innovation and Access
Deborah Atherly, PhD, BScPharm, is global head of Policy Access and Introduction for PATH's Center for Vaccine Innovation and Access. Dr. Atherly directs PATH's activities in vaccine access and introduction, which focus on developing and advancing technologies and interventions that help move research achievements in immunization into routine use in the field. She provides strategic leadership, direction, and technical guidance for a variety of vaccine projects and studies, including work on vaccines against rotavirus, HPV, Japanese encephalitis, meningitis, pertussis, and influenza.
Prior to this role, Dr. Atherly was primarily responsible for conducting economic and financial evaluations on drugs, vaccines, and diagnostics targeted for use in developing countries. In this role, she developed global demand and supply forecasts for vaccines, including rotavirus and human papilloma virus (HPV), and she evaluated the health and economic impact of vaccines on developing-country populations. Dr. Atherly has worked in many sub-Saharan African countries to collect and evaluate economic data in order to strengthen evidence for decisions on vaccine introduction. She works extensively in partnership and advisory roles with many global health agencies including Gavi, UNICEF, the World Health Organization, the Pan American Health Organization, and the Bill & Melinda Gates foundation.
Prior to joining PATH, Dr. Atherly worked in both the private and public sectors. While at Parke-Davis and at Johnson and Johnson, and as a consultant to other pharmaceutical companies, she developed and conducted economic and financial analyses, including cost-effectiveness, return on investment, and demand forecasting. Based on these analyses, she implemented strategic plans for communication of these data to policymakers. She also served as a pharmacy director and held various clinical leadership positions in hospitals and health systems.
Dr. Atherly is a pharmacist and has a PhD in pharmacoeconomics and outcomes research.