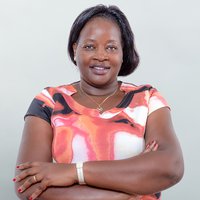 Betty Mirembe, MD, MBA
Country Director, Uganda
Dr. Betty Mirembe, PATH's Country Director for Uganda, oversees health systems strengthening and works to improve access to critical health care interventions, including tools to prevent and detect cancer, new contraceptive choices, and lifesaving vaccines. Dr. Mirembe also supports the country's response to public health emergencies, such as the COVID-19 pandemic.
Prior to joining PATH, Dr. Mirembe was the Country Director at mothers2mothers (m2m) Uganda. During her tenure, the m2m country portfolio grew from a single program to a multiservice area implementation program. In addition, Dr. Mirembe led the design, implementation, and growth of its programs focused on sexual and reproductive health, adolescents, orphans and vulnerable children, child protection, childhood disability, and early childhood development.
Before m2m, Dr. Mirembe served as the HIV Program Manager at the Clinton Health Access Initiative, where she partnered with Uganda's National Ministry of Health to design and implement several national-level programs for eliminating mother-to-child transmission (EMTCT) of HIV, early infant diagnosis, pediatric HIV, and tuberculosis. Dr. Mirembe also worked as a technical advisor at the Elizabeth Glaser Pediatric AIDS Foundation, where she guided the landmark transition of the EMTCT program to the World Health Organization test and treat approach.
Dr. Mirembe holds an MD from Mbarara University of Science and Technology in Uganda and an MBA from the Eastern and Southern African Management Institute. She has more than 20 years of experience in public health, 15 of which have been in program management; HIV/AIDS care and treatment; reproductive, maternal, newborn, child, and adolescent health; and early child development.