Vaccination campaigns are more than meets the eye. To ensure safe, effective, and efficient vaccination of large numbers of people—as shown in the photograph above—public agencies must coordinate hiring and training personnel; shipping and transporting vaccines, syringes, and other materials; raising awareness and demand among the public; ensuring timely payments are made to all relevant parties; and monitoring and recording information about how many people get vaccinated.
Vaccination campaigns in response to the COVID-19 pandemic have tested the limits of nearly every public health agency in the world. And sometimes, an opportunity for a vaccination campaign happens very quickly, and it is up to the country's leaders and partners to seize the moment.
This is what happened in Kurigram District, Bangladesh, in December 2021. Thanks to Bangladesh's determination to protect people against COVID-19, nearly 65,000 people were vaccinated in just two days.
Dr. Kamran Mehedi joined PATH as a Senior Program Officer on the Vaccine Implementation team within PATH's Center for Vaccine Innovation and Access in November 2021. Based in Bangladesh, he had a longstanding relationship with the Ministry of Health (MOH) and its Expanded Program on Immunization (EPI). Soon after Dr. Mehedi started at PATH, EPI Program Manager Dr. Mowla Baksh Chaudhury and Line Director Dr. Md Shamsul Haque reached out to him to ask if PATH could support an upcoming COVID-19 vaccination campaign.
"The EPI had already been working on accelerating the ongoing COVID-19 vaccine delivery," Dr. Mehedi explained. "In early December, Dr. Haque told me that the EPI had identified some gaps in their funding structure for an upcoming campaign in the hard-to-reach district of Kurigram. He asked me if PATH could help, and we were fortunate to be able to say – yes, we can."
While global health funding is typically earmarked for specific purposes, the needs of the pandemic have encouraged funders and implementers to offer more flexibility and nimbleness in project funding structures. In 2020, PATH received permission to redirect some existing funding to respond to COVID-19.
"Because of the flexibility within project funding, we were able to quickly respond to the EPI's request using funds from a project that was already working in Bangladesh," noted Dr. Mehedi.
Once PATH identified the funding to support the campaign, the EPI team quickly got to work with Dr. Mehedi to identify specific activities where PATH could help.
Getting vaccines up the river
Located in Rangpur Division in northern Bangladesh, Kurigram District is designated a hard-to-reach area because it is separated from the rest of the country by the Brahmaputra River and small river islands called char. Travel and transport of goods, including vaccines, requires the use of boats. And a lack of roads makes many areas—especially on the char—impassable by car, rickshaw, motorbike, or even bicycle. Walking is the only option.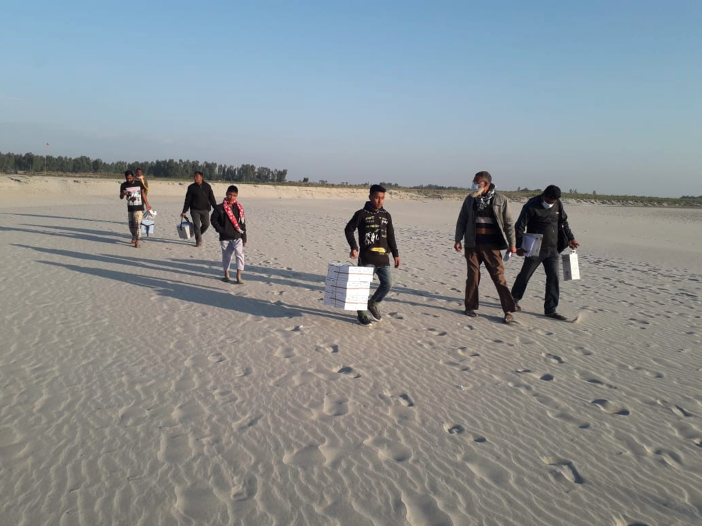 Getting COVID-19 vaccines to Kurigram therefore required hiring a team of temporary vaccinators, volunteers, and porters. And because of the geography of Kurigram, the MOH also needed to pay boat rental fees for river transport. However, the Bangladesh Ministry of Finance often had difficulties with timely remuneration of such one-off payments, which made it challenging to recruit these essential workers.
The EPI therefore asked if PATH could step in to fill these financial gaps. PATH used its reallocated project funds to pay honorariums for vaccinators, volunteers, boat transport workers, and other temporary staff.
Thanks to these workers and an array of partners, including the World Health Organization, the United Nations Children's Fund, and Friendship, a local nongovernmental organization, 64,636 people in Kurigram District received COVID-19 vaccinations within two days.
"For many of these people, this was the first time they had ever had access to COVID-19 vaccines," Dr. Mehedi recalled. "I recall one woman who was 79 years old, and she was crying because she never thought that people would come into her village to vaccinate them. She was so grateful."
Because of Kurigram's geography, adult vaccination campaigns among the char populations were rare, he noted. "The people were like in festival, coming together with their family members. They were very happy."
The success and speed of the Kurigram campaign has emphasized several lessons for both the Bangladesh MOH and PATH.
For the MOH, the campaign highlighted the importance of strong management on the ground and the involvement of local stakeholders. Dr. Mehedi noted that the Line Director and Program Manager were in regular communication over mobile phone throughout the campaign. And during the microplanning process, input from local stakeholders helped ensure success in anticipating and navigating local challenges.
Based on the success of this campaign, the government has planned additional campaigns in other hard-to-reach areas of Bangladesh.
"There are a lot of rivers and hilly areas," said Dr. Mehedi. "So based on our findings in Kurigram, they adopted some of this local management with government-funded campaigns to help capture the missed populations elsewhere."
For PATH, this experience emphasized that country leaders and decision-makers know their own needs best. Having flexibility to quickly respond to these needs as they happen proved critical, especially during a health crisis such as the COVID-19 pandemic.
Reflecting on this success, PATH Senior Technical Advisor on Immunizations, Emmanuel Mugisha, said that countries must be able to fill needs as they see fit.
"We are glad that our established relationship and mutual trust with the government of Bangladesh enabled them to turn to us when they needed support, and that our donors' flexibility allowed us to help. We see the biggest impact when we can respond to country-led requests in real time," he said.
Dr. Mehedi said his biggest lesson from this experience was the importance of reaching all people.
"Sometimes we overlook the hard-to-reach areas and the marginalized people, because initially we focus on the general population. But we have to be focused on these isolated populations. They always need to be part of the planning."
"We have to be focused on these isolated populations. They always need to be part of the planning."
— Dr. Kamran Mehedi, PATH Senior Program Officer, Bangladesh