Dr. Guylain Kaya slips through a side door into his office, where Guy and I are waiting. "I apologize," he says. "I only have a few minutes. We're meeting about the yellow fever campaign."
It's August 30, 2016, two weeks after the Democratic Republic of the Congo (DRC) launched one of the largest emergency vaccination campaigns ever held in Africa in an effort to keep the deadly disease from spreading within the country and internationally. The epidemic had hit Kinshasa, making it the first time an outbreak had spread to a densely populated city.
Dr. Kaya is the medical director for the DRC's vaccination program, known as the Expanded Program on Vaccination (EPI). He coordinated the massive effort. Typically a campaign of this size takes months to plan and implement, but this one had to be done quickly before the rains began and created breeding areas for the mosquitoes that transmit the deadly disease.
I'm in Dr. Kaya's office with Guy Bokongo, a senior policy and advocacy officer with PATH, who is helping to build political will and financial support for immunization programs in the DRC. Guy and I were hoping for a half hour with Dr. Kaya so I could interview him about the country's immunization program. But given the tense situation, I'm grateful—honored really—for the few minutes we have.
On the same plane
Waiting behind Dr. Kaya's office door are representatives from the Ministry of Health, the World Health Organization, and some of the more than 50 global partners who collaborated on the complex logistics needed to get vaccine and people to more than 8,000 sites at the same time. The effort required a whopping 10 million syringes, 38,000 vaccine carriers (plus ice packs), and 40,000 vaccinators.
Fine-tuned communication was critical to making the plan work. PATH provides technical support to the Ministry of Health and co-leads EPI's advocacy and communication task force. Our input ranged from how to mobilize people to come to their designated vaccination sites on their designated days to easing community fears about the vaccine. Because yellow fever vaccine supplies were so limited, only one-fifth of the normal dose was used, protecting people for one year rather than a lifetime.
Dr. Kaya tells us the campaign is wrapping up in Kinshasa. Nearly 8 million people were vaccinated in just ten days. Now the focus is on remote areas near Angola's border.
Hopes are high that the campaign will be successful. Still, Dr. Kaya tells me he is concerned that the outbreak exposed the weaknesses in DRC's immunization system.
"We need to reinforce the need for routine immunization, and we need your expertise," he says, referring to PATH. "You are in our plane. You support our plane so we can fly it well."
A city bursting at the seams
The campaign ended just in time. The first rain fell just two days before we arrived, making the dirt side roads that ring Kinshasa nearly impassable by car. The densely populated neighborhood called Kingasani is a warren of these rutted streets, thick with people walking, hawking wares, buying food, building furniture, repairing cars, selling caskets.
Stagnant water and garbage are everywhere—conditions that carry high risk of mosquito-borne diseases like yellow fever and malaria. As our four-wheel drive vehicle lurches through puddles and past crowds, I can imagine how an outbreak could quickly get out of hand.
Dr. Alan Wembolwa, who is in charge of the Kingasani health zone, tells me that no one knows how many people live in Kingasani's 4.5 square kilometers, but the estimate is a quarter of a million people. Residents eagerly lined up for the yellow fever vaccine, but Dr. Wembolwa laments that far too few children got their routine vaccines.
In fact, children are fully immunized in only one-third of the country's health zones. Reasons children miss out on vaccines range from parents not understanding the importance of vaccination to funding constraints and logistics challenges.
The DRC is determined to improve its immunization program, but reaching every child in a city of 10 million is difficult. It's even more challenging reaching the millions who live in the rural villages. In much of the country, roads are so bad that vaccine supplies need to be flown in—or delivered by canoe!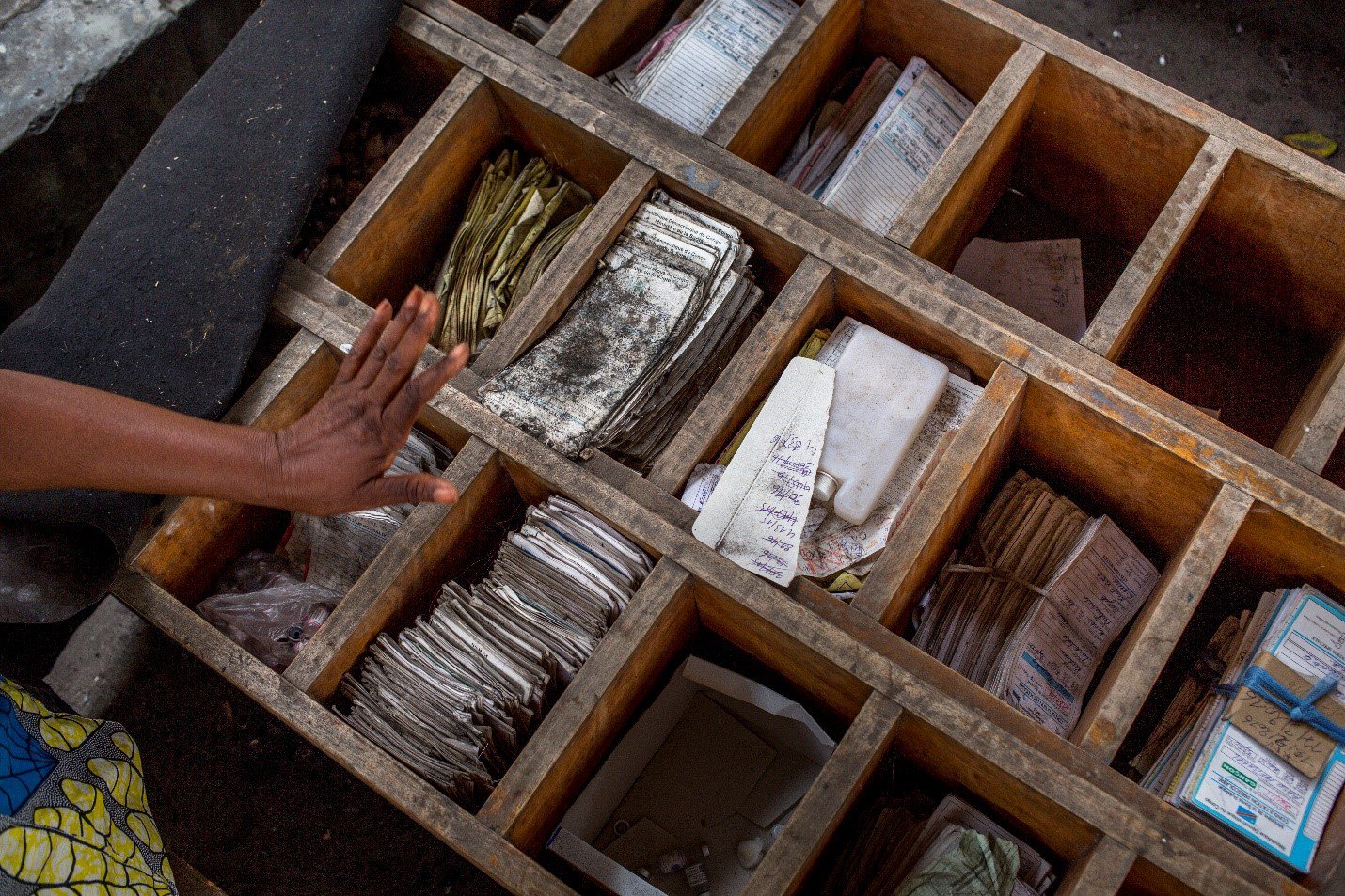 As we drive to our next destination—Molende Centre de Santé—I notice that some cars have their steering wheel on the right, while others have it on the left. It seems emblematic of this country where people need to be resourceful and adaptable to survive.
The courtyard of the Molende Centre de Santé is an oasis from the crowded streets. Ten women with babies wait on wooden benches. Each baby has a vaccination card, which their mothers had to purchase. While the cards cost only US$3, it's a financial barrier for some families. It's also one of the few ways clinics can bring in resources for immunization programs.
Three-month-old Precious is getting oral polio drops and the pentavalent shot, which protects against five diseases. She cries vigorously at the prick of the needle, but her mother, Christel Nanao Mokabi, is pleased that Precious is protected.
If she could talk to the government, Christel tells me, "I would say it's very important to help fund immunization. It would help more children access vaccines and reduce the number of children who die from diseases."
Fortunately for Christel, the government is listening.
My last meeting of the day takes me to an apartment in the city's center where Gregoire Lusenge is huddled with three of his fellow members of parliament (MPs). They are also discussing the yellow fever campaign.
Gregoire seats us at a nearby table and is ready to talk. In 2009, he launched a parliamentarians' network to raise visibility and funding for immunization. Now, he tells me, 120 of the country's 500 MPs are members.
"Vaccination is the one issue that both sides of the political spectrum work together on," Gregoire says. "Politicians are divided, but immunization unites."
The network has been quite successful in its mission. For instance, it got a line item for routine vaccination inserted in the national budget—ensuring that the program is discussed during annual budget negotiations.
And in the midst of many other pressing needs, the group recently convinced the government to release nearly US$2 million for vaccines. The amount was a partial fulfillment of a commitment to cofunding vaccines purchased by UNICEF and Gavi, the Vaccine Alliance.
Next year, when yellow fever vaccine stocks have been replenished, the DRC will have to do another mass immunization campaign to make sure a new epidemic doesn't crop up. Meanwhile, PATH is helping to establish the first Emergency Operating Center in the country, which will coordinate prevention, detection, and response for future public health emergencies.
We'll also continue supporting the many, many Congolese trying to protect the country's children from everyday diseases like measles and tetanus. People like Dr. Wembolwa and Gregoire Lusenge, who see one potential upside to the yellow fever campaign.
As Gregoire puts it, "People understood the importance of the yellow fever vaccine because they saw that people died in Angola and the DRC. Now they understand better that vaccination is very important."
Editor's note: The DRC emergency vaccination campaign is considered a huge success by the global health community. Since the vaccination campaign, there have been no more cases of yellow fever in the country.