For a disease with no treatment, prevention is key
Transmitted to humans by mosquitoes, Japanese encephalitis (JE) begins like the flu and may progress to a brain infection, when it will kill up to 30 percent of its victims and leave thousands more with permanent brain injuries.
There is no treatment. The only solution is prevention through immunization. But until PATH launched our work in JE in 2003, tens of thousands of children died or were disabled each year for lack of an accessible, affordable, and reliable vaccine.
"3 billion people live in areas at risk for JE, and up to 70,000 cases are reported annually."
Because the disease mainly strikes poor rural communities throughout Asia and the Western Pacific, it historically received little attention. Yet approximately 3 billion people live in areas at risk for JE, and up to 70,000 cases are reported annually.
Up to half of survivors suffer permanent neurological damage, such as paralysis, recurrent seizures, or the inability to speak.
Using data to bring understanding—and pave the way for a solution
In the early 2000s, PATH began suspecting that JE was a bigger problem than previously realized. Health workers in India routinely voiced concerns about JE, and the country's improved disease surveillance suggested a high incidence.
In 2003, we secured a grant from the Bill & Melinda Gates Foundation to tackle it. Harnessing our expertise in accelerating access to lifesaving vaccines, our goal was to understand the disease, determine the health and economic burden it placed on countries, and prepare the way for a vaccine that would safely and affordably prevent it.
PATH began by helping private-sector partners develop standard diagnostic tests. We worked with the World Health Organization (WHO) and governments to set up surveillance systems and a web-based platform for sharing data about JE incidence. These efforts allowed countries to understand the extent of the disease, prioritize it, and focus prevention efforts on the regions and people most needing protection.
Vaccines against the disease already existed. Some countries had JE vaccination programs in place, and international travelers to Asia were routinely vaccinated against the disease. But the most commonly used vaccine had significant drawbacks—multiple doses were required and it was expensive to produce. There simply wasn't enough funding or doses available for all the children who needed it.
In search of a solution, PATH surveyed the field for a better JE vaccine. We discovered that China had already developed an affordable vaccine (now known as CD-JEV) and had protected more than 200 million children through immunization. The vaccine, made from active but weakened virus, was safe, effective, and required only one dose. But it was little known outside the country—and might have stayed that way had PATH not figured out how to bring it to other countries of high need, while also playing a bridging role between partners around the world.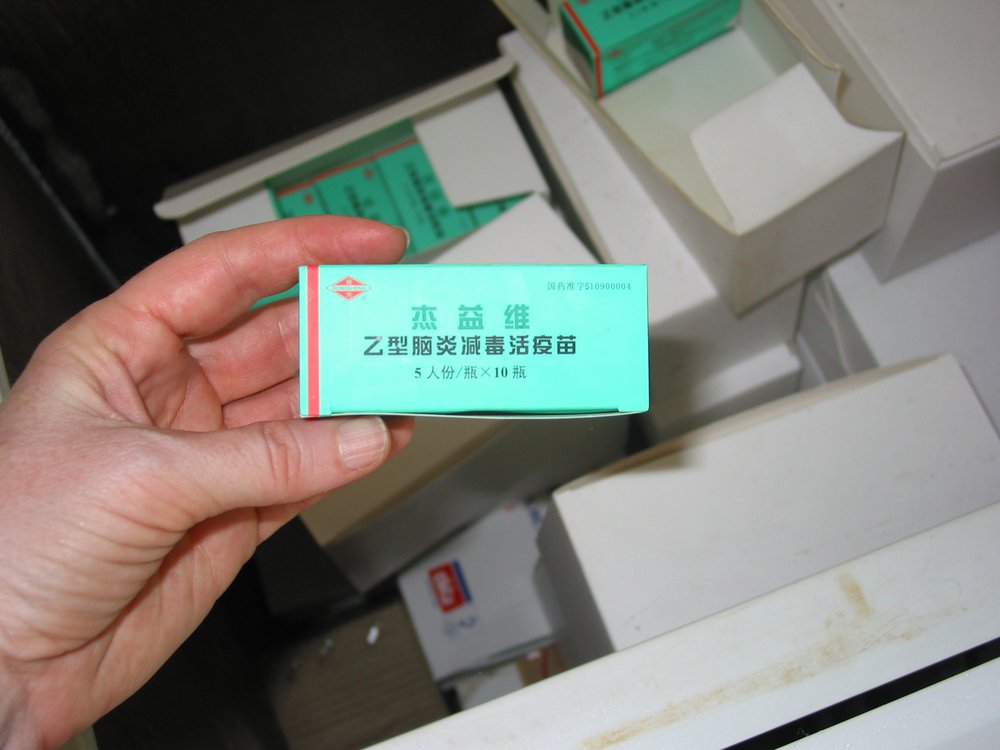 A deadly outbreak brings new urgency
Then, in 2005, a devastating JE outbreak killed nearly 2,000 people in India and Nepal, mostly children. Media coverage focused international attention on JE, while governments strengthened their resolve to protect their young people. PATH and our partners were able to use this newfound attention around the disease to advocate for introduction of CD-JEV in affected countries.
Preparing the vaccine for rollout
With the vaccine identified, PATH collaborated with international partners and ministries of health in Asia to accelerate its introduction. Because CD-JEV had not been used widely outside of China, international officials called for specific clinical studies. PATH collaborated with the manufacturer, WHO, and ministries of health on pivotal clinical trials to help prove the vaccine was safe and effective.
We also supported clinical trials to confirm that the vaccine can be given at the same time infants get their measles shots, making it easier to fit into existing immunization programs. To help countries plan for the introduction of CD-JEV, we modeled the cost-effectiveness of immunization strategies.
"With the vaccine identified, PATH collaborated with international partners and ministries of health in Asia to accelerate its introduction."
The vaccine also needed to be affordable for use in low-income countries, so PATH negotiated with the vaccine manufacturer—Chengdu Institute of Biological Products (CDIBP)—to establish a special public-sector price.
From Cambodia to India: 300 million children are vaccinated
PATH has helped support JE vaccine introduction or expansion in ten countries outside China. India and Nepal were among the first countries to introduce CD-JEV through mass vaccination campaigns and routine immunization services. They were later followed by others, including Cambodia, Indonesia, Laos, and Myanmar.
Along the way, PATH and our partners were there to support the countries—from developing introduction strategies to implementing and evaluating immunization programs.
To date, CD-JEV has reached nearly 300 million people outside of China.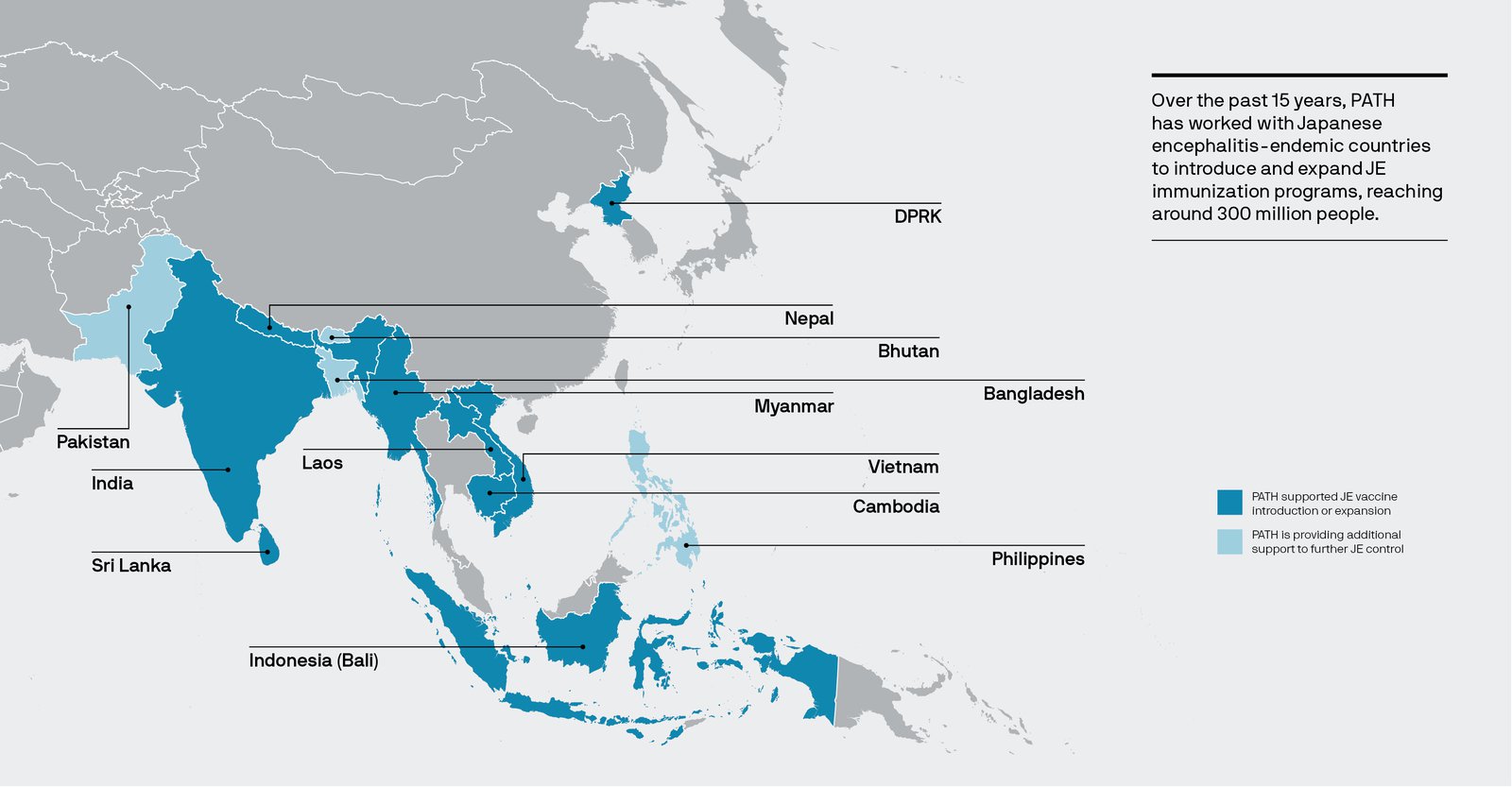 Helping China become a player in global vaccine production
We were also helping the vaccine manufacturer, CDIBP, pursue WHO prequalification of CD-JEV as the critical next step in expanding access. Both the vaccine and CDIBP underwent rigorous inspections to ensure they met international standards for quality, safety, and efficacy. PATH provided CDIBP with technical and financial support to meet these standards. We also assisted in the design and financing of a new, high-quality CD-JEV manufacturing facility to ensure production of an adequate amount of this affordable vaccine.
WHO gave its critical stamp of approval in 2013. Prequalifying the vaccine allows United Nations procurement agencies to purchase the vaccine. It also opened the door for the vaccine's inclusion in the portfolio of Gavi, the Vaccine Alliance, which provides vaccine financing for low-income countries where the burden of JE is especially high.
In 2015, Laos became the first country to receive Gavi support to complete a nationwide JE vaccination campaign, building on earlier campaigns supported by PATH and our partners that reached children in eight provinces. Following the campaign, the government included the vaccine in its routine immunization program.
The JE vaccine also marks China's entrance into the global vaccine marketplace. CD-JEV is the first vaccine ever produced in China to receive WHO prequalification, with the potential to foster a more competitive vaccine manufacturing market and help shift how vaccines are made, delivered, and priced for the developing world. And because CDIBP and its parent company now have a global export market for their vaccine, they're advancing China's role in global health and development.
1 of 4
2 of 4
3 of 4
4 of 4
Equity for the world's children through vaccines
At PATH, we believe access to vaccines is critical to achieving health equity. And we're committed to ensuring countries have the tools they need to thrive. Our Center for Vaccine Innovation and Access (CVIA) has expertise at every stage of the complex process of vaccine research, development, and introduction. This allows us to both accelerate access to existing vaccines and make new vaccines rapidly and widely available.
"Our Center for Vaccine Innovation and Access (CVIA) brings together diverse experience and expertise in both disease and functional areas."
The story of PATH's JE work collaborating across sectors to bring a critically needed vaccine to a global marketplace is a prime example of our unique, comprehensive approach. Currently, we work across more than two dozen vaccines in development or already in use, spanning 17 different diseases.