An estimated 12.5 million people in Nepal are at high risk for Japanese encephalitis (JE)—a viral brain infection that kills a third of those that develop illness and leaves up to half of those who survive with severe, life-long disabilities. Despite Nepal's significant historical JE burden, it is remarkable that not a single death has been attributed to this disease in Nepal since 2010. The reason? Expanded introduction of a safe, effective JE vaccine and the Nepali government's unwavering commitment to its use.
Introducing a new vaccine into a national immunization program, however, is no easy task. Decision-makers in JE-endemic countries often cite four main barriers for JE vaccine introduction: lack of disease surveillance data, inadequate financial resources, competing vaccination priorities, and need for technical assistance.
Nepal overcame all of them. Here's how.
Barrier 1: Lack of surveillance data and laboratory capacity to determine JE disease burden.
In Nepal, JE is spread primarily by the mosquitoes that breed in flood-irrigated rice paddies. The first recorded JE epidemic in Nepal was in 1978 in the Terai—the plains south of the Himalayan foothills, home to many rice paddies. As rice production expanded, JE virus transmission spread to include districts in the bordering hills and mountains to the north, including the heavily populated Kathmandu Valley. Nepal's Ministry of Health (MOH) recognized this threat and decided to implement a national surveillance network to better understand it.
Utilizing technical assistance from the World Health Organization (WHO) and adapting existing laboratory infrastructure, the MOH expanded JE laboratory testing to 64 referral hospitals throughout the country in 2004. This type of testing was important because encephalitis and its symptoms may be caused by infections other than JE. As a result, doctors needed to take a sample from a symptomatic patient and analyze it in a lab to be able to confirm that it is, in fact, JE. With this testing in place, JE cases could be identified for the first time, providing policymakers with much-needed data on incidence across the country. Having concrete evidence about the disease's threat to Nepal's children helped build political will, confidence, and public support for JE vaccination.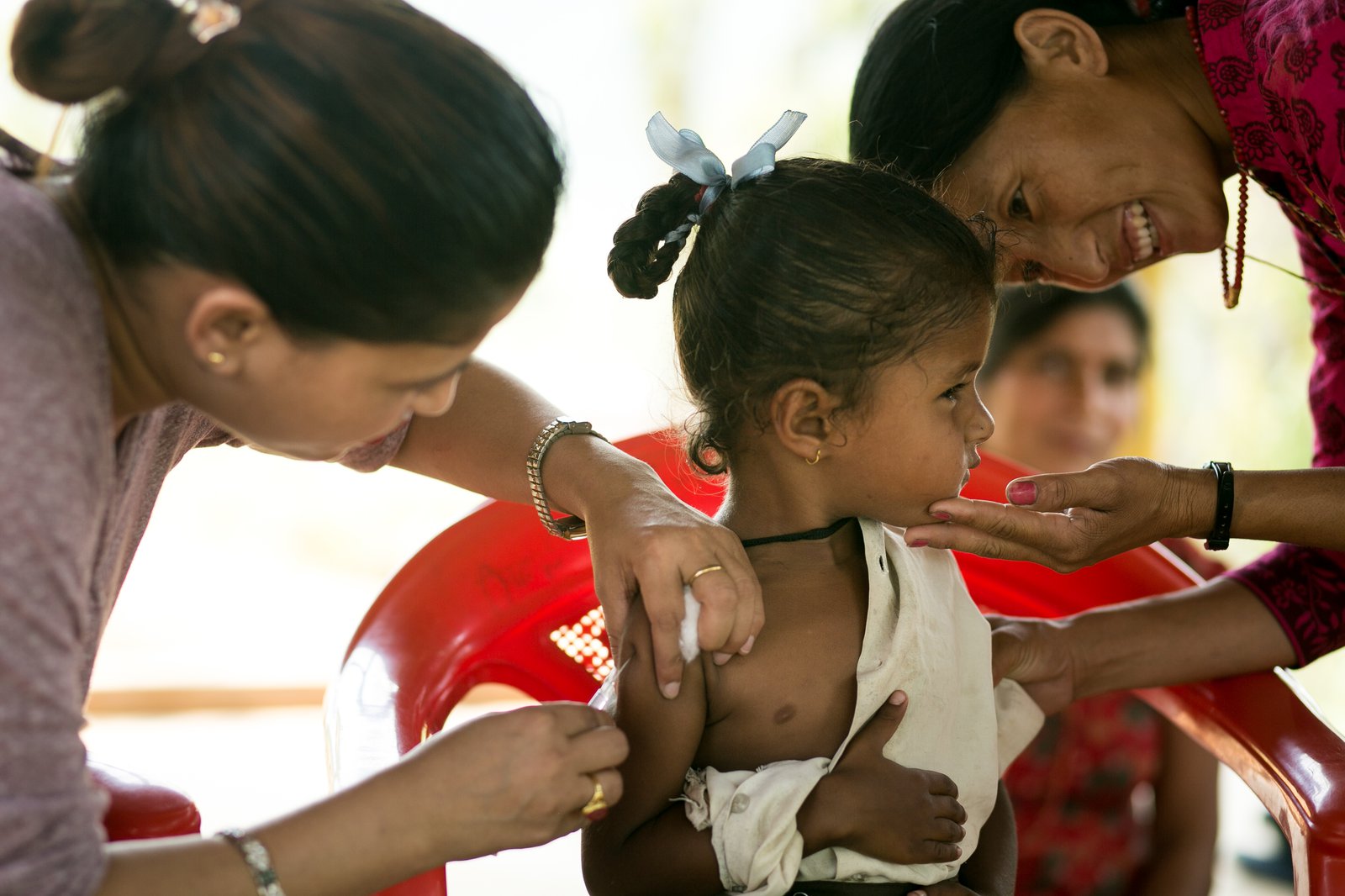 Barrier 2: Inadequate financial resources and health infrastructure capacity to introduce vaccines.
The cost of introducing a new vaccine is always an important consideration for decision-makers, especially those in countries with limited resources. Because improved surveillance provided a better picture of the JE burden across Nepal, they knew that, despite limited finances, it would be highly cost-effective for Nepal to introduce JE vaccine. In other words, although it costs money to introduce the vaccine, the cost would be well worth it in the long run because it would prevent the heavy financial burden of JE hospitalizations, long-term care for people with disabilities, and the lost economic potential of those affected. So, in 2006, the MOH devised a plan to add JE vaccine to routine immunization for children in high-risk districts.
In 2006, prior to Gavi, the Vaccine Alliance, establishing financial support for the vaccine, Nepal applied for a loan from the World Bank and purchased JE vaccine at an affordable public-sector price, which PATH had previously negotiated with the vaccine manufacturer. Then, after the vaccine achieved WHO prequalification, Nepal used Gavi financing to expand JE vaccination to additional districts starting in 2016.
To improve JE control, Nepal adapted their limited existing health infrastructure using resources originally designed for polio eradication and measles vaccination efforts—including health workers, facilities, cold chain equipment, and logistics systems—for JE vaccination efforts.
Barrier 3: Competing policy priorities around introducing other vaccines.
Competing vaccination priorities are common challenges for country vaccination programs. Decision-makers knew JE posed a significant health burden in the country, but so did pneumonia, hepatitis B, and many other diseases with available vaccines. In 2005, the urgency for JE vaccination heightened due to a devastating epidemic that killed thousands of children in Nepal and India.
Through careful planning and evidence-based decision-making, the MOH coordinated JE vaccine introduction alongside other lifesaving vaccines. In addition to adding JE vaccine to its immunization schedule in 2006, Nepal added pentavalent vaccine in 2009, inactivated polio vaccine in 2014, and pneumococcal conjugate vaccine in 2015. Nepal continues to coordinate JE vaccination alongside an ever-expanding list of lifesaving vaccines to maximize protection for its children.
Barrier 4: Need for technical assistance and training materials to guide JE vaccine introduction.
When Nepal needed technical assistance to design its JE vaccination program, the government sought the expertise of WHO and partners such as PATH. With this help, the MOH designed a vaccination scale-up plan and developed materials to train and educate health workers and the public along the way.
Education materials included a JE awareness program to encourage vaccination, which Nepal implemented as part of its JE vaccination strategy. The MOH developed a variety of materials, including posters and vaccination invitation letters in a variety of local languages. Local media outlets and interpersonal communications with health workers also helped spread the word about JE vaccines. Increased awareness of JE and the availability of a protective vaccine helped increase community demand for JE vaccines, which likely improved vaccination coverage. By continuing to improve JE awareness through education, Nepal hopes to increase the reach and sustainability of JE vaccination to all those at risk.
To learn more about Nepal's journey to combat JE, read our case study: Combatting Japanese encephalitis in Nepal: A public health success story.