In Ho Chi Minh City's District 8, a grocery store is offering health screenings for customers as part of an innovative pilot program with PATH, Access Accelerated, and the Ho Chi Minh City Health Department.
Shoppers visiting the Co.opMart at the border of Wards 12, 13, and 14 can now buy groceries—and get screened for hypertension and diabetes—all in one stop.
This new pilot program exemplifies the grocery chain's slogan ("Vietnamese supermarket for Vietnamese people") and its commitment to community engagement and responsibility. The largest supermarket chain in Vietnam, Co.opMart has 140 stores nationwide, and its District 8 location alone serves between 2,800 and 3,200 customers every day.
"Some of them, especially our older customers, come regularly and consistently on Tuesday and Thursday morning because they would like to get their blood pressure checked at the screening site inside our store," says Mr. Duy, a Co.opMart employee and marketing lead at the pilot location. "Over time, we get to know the regulars as well. It's good for them and good for the community."
The pilot screening site at Co.opMart is an important step in extending the reach of health care workers and collaborators beyond traditional medical settings, raising community awareness of noncommunicable diseases, and engaging hard-to-reach community members.
The site is also just one part of the broader Communities for Healthy Vietnam project, a partnership between PATH and Access Accelerated that aims to make treatment for noncommunicable diseases more accessible—a critical component of primary health care strengthening.
The implementation plan for this Co.opMart screening site began in early 2020 with interest from Dr. Nguyen Huu Hung, Deputy Director of the Ho Chi Minh City (HCMC) Health Department, eagerness from Co.opMart District 8, and support from PATH and Access Accelerated. The plan laid out the partnership mechanism between HCMC Health Department, Co.opMart, and PATH throughout its pilot phase from May to October 2020.
Given Co.opMart's brand reputation, network, and willingness to support, it was an inevitable choice for the HCMC Health Department.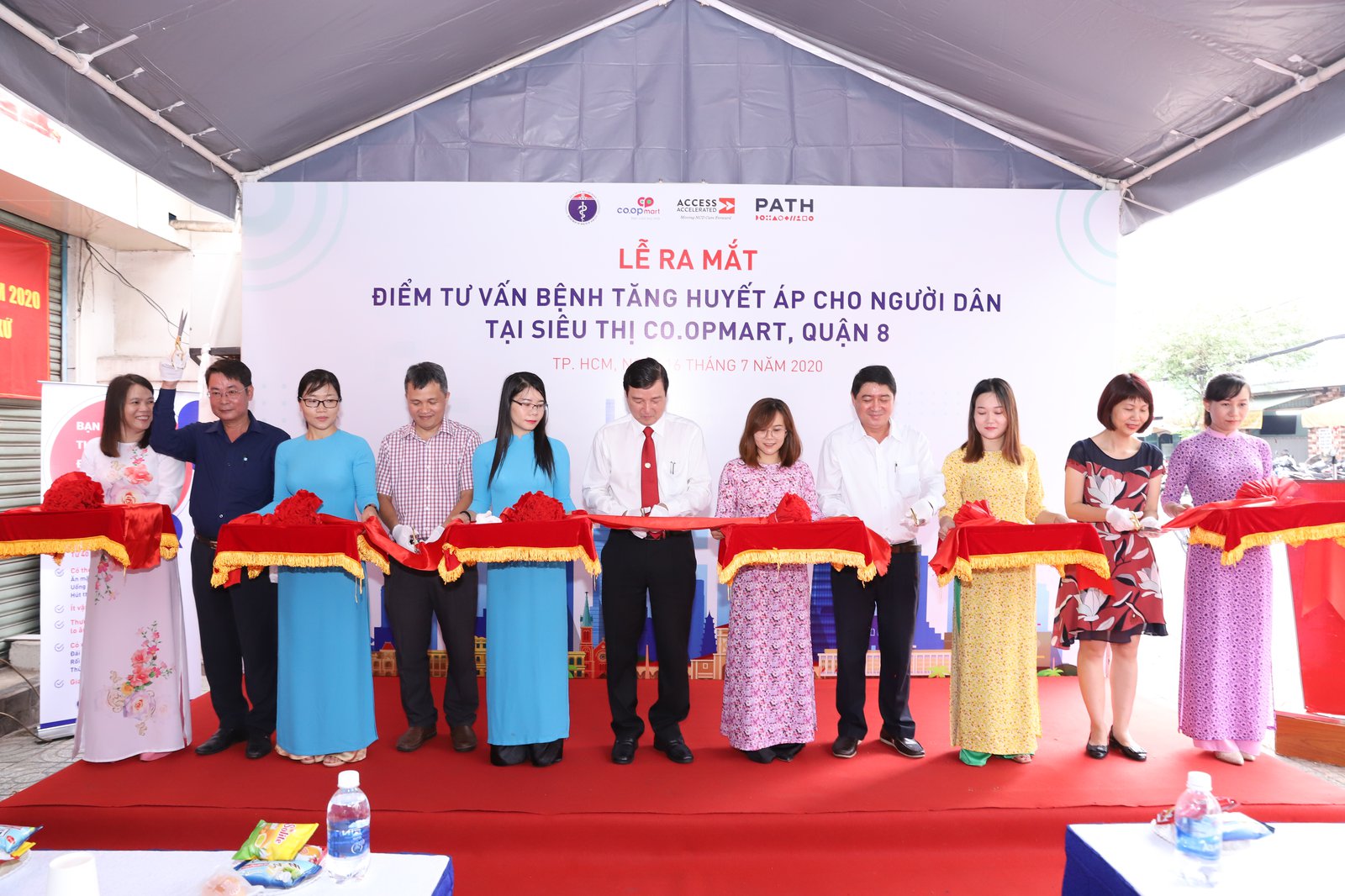 At the launch event, Dr. Nguyen Huu Hung emphasized the chain's well-known brand name, the volume of its frequent customers, and the environment of a supermarket—a place where members of the community gather, meet, and socialize. He also stressed the potential of public-private partnerships as a bridge between health and non-health sectors, and as a contributor to the development of community.
To prepare for the pilot, PATH worked closely with the Ho Chi Minh City Centers for Disease Control and Prevention to conduct training for health collaborators and health workers at the commune health centers of Wards 12, 13, and 14 in District 8.
Health workers were trained on the standard procedures of screening site operation with a four-step procedure of (1) welcoming; (2) measuring blood pressure, weight, height, and waist and evaluating diabetes risks; (3) consultation and referrals for suspected cases of hypertension and diabetes; and (4) data collection into pre-printed forms. They were also trained on communication and community outreach skills.
Co.opMart District 8 is centrally located among the three wards, so there were agreed arrangements on sharing resources, schedules, established information flow, and patient referrals to the appropriate commune health center (depending on where the patient lived). Three health workers and 13 collaborators from three commune health centers rotated to staff the site.
In addition to technical support, PATH also provided equipment and printed materials (brochure, leaflets, etc.) with information on hypertension and diabetes risks, assessment, and referral clinics. Co.opMart saved the "golden spot" right after the front door of the supermarket every Tuesday and Thursday morning from 8 a.m. to 12 p.m. for the screening activities.
The pilot took place from July through December 2020. A total of 858 persons were screened, among which 493 with high risks of hypertension/diabetes were referred for further consultation and treatment and 319 were confirmed hypertension/diabetes cases. But there was more to the results of this pilot.
A random survey among clients showed that 88 percent found the health staff and collaborators very enthusiastic and welcoming, 65 percent hoped this model could be maintained and expanded, and the majority approved of the community health awareness approach. The health collaborators also expressed their willingness and readiness to continue the screening activities at local commercial locations.
Co.opMart District 8 also saw this screening site as a valuable community service activity that aligned well with its mission and vision. Customers, especially the elderly, were eager to be cared for and screened for hypertension and diabetes.
The Communities for Healthy Vietnam program is a great example of why PATH is prioritizing primary health care investment and strengthening. With the fervent support from all sectors and the civil society, PATH and Access Accelerated are excited to continue establishing integrated, person-centered, and community-based approaches for hypertension and diabetes prevention and management in Vietnam.